Prince William and The Earthshot Prize revealed the 2022 Earthshot Prize winners – an accomplished group of entrepreneurs and innovators spearheading groundbreaking solutions to repair and regenerate the planet. Each winner was awarded a £1 million prize at the second-annual Earthshot Prize awards ceremony, which will be broadcast Sunday, December 4 at 17:30pm GMT on BBC and will begin streaming on Monday, December 5 at 2:00pm EST on PBS.org
and the PBS app.
Founded by Prince William and The Royal Foundation in 2020, The Earthshot Prize is a global environmental prize to discover, accelerate and scale ground-breaking eco-solutions to repair and regenerate the planet. Inspired by President John F. Kennedy's Moonshot challenge in the 1960s, which united millions of people around the goal of putting a person on the moon within a decade, The Earthshot Prize aims to discover and help scale innovative solutions that put the world firmly on a trajectory toward a stable climate by 2030 – a world in which communities, oceans and biodiversity can thrive in harmony.
Each year over the course of this critical decade for the planet, five winners will be chosen for their ground-breaking solutions to five of the greatest environmental challenges facing our planet. These five Earthshots are: Protect and Restore Nature; Clean our Air; Revive our Oceans; Build a Waste-free World; and Fix our Climate.
This year's winners are:
Clean our Air: Mukuru Clean Stoves, Kenya – A start-up providing cleaner-burning stoves to women in Kenya to reduce unhealthy indoor pollution and provide a safer way to cook.
Protect and Restore Nature: Kheyti, India – A pioneering solution for local smallholder farmers to reduce costs, increase yields, and protect livelihoods in a country on the frontlines of climate change.
Revive our Oceans: Indigenous Women of the Great Barrier Reef, Australia – An inspiring womenled program that combines 60,000 years of indigenous knowledge with digital technologies to protect land and sea.
Build a Waste-free World: Notpla, United Kingdom – A circular solution creating an alternative to plastic packaging from seaweed.
Fix our Climate: 44.01, Oman – Created by childhood friends who have developed an innovative technique to turn CO2 into rock, and permanently store it underground.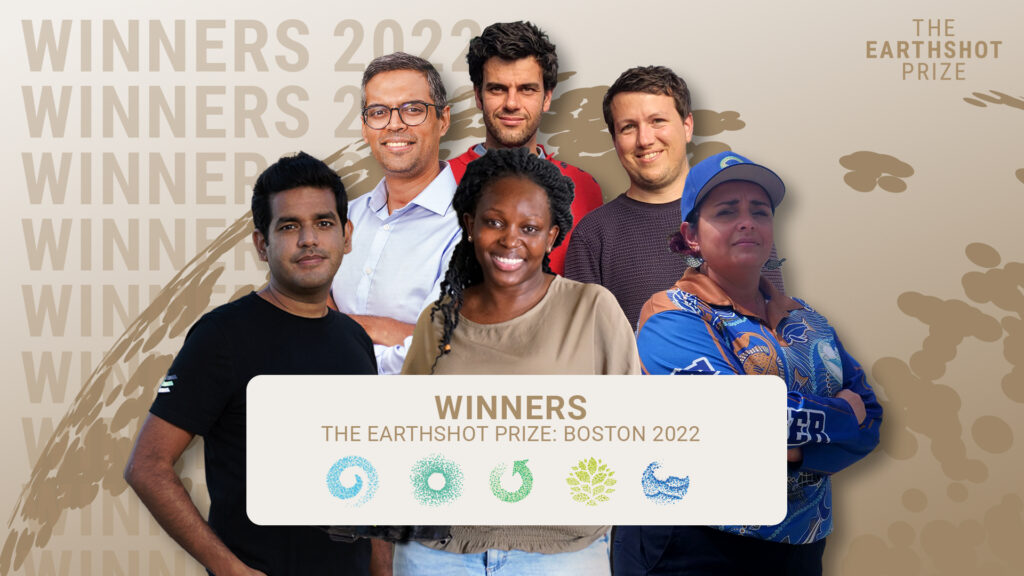 In its second year, The Earthshot Prize embarked upon an ambitious global nine-month search process, seeking out the most inspiring and innovative solutions to the greatest environmental challenges facing the planet. Over 1000 applications from around the world were considered, with 15 finalists from 10 countries chosen through a selection process supported by an expert advisory panel.
Each of the winners' solutions excelled in the rigorous screening process following an assessment on their potential to create game-changing impact around the world, and their ability to help us reach our Earthshot goals while also positively impacting people, communities, and the natural world.
The final five winners were selected by The Earthshot Prize Council, a diverse team of influential individuals which include: HRH Prince William, Her Majesty Queen Rania Al Abdullah of Jordan, Sir David Attenborough, Dr Ngozi Okonjo-Iweala, Indra Nooyi, Shakira Mebarak, Christiana Figueres, Luisa Neubauer, Cate Blanchett, Yao Ming, Daniel Alves Da Silva, Ernest Gibson, Hindou Oumarou Ibrahim, Jack Ma, and Naoko Yamazaki.
All 15 Finalists featured in the ceremony will receive tailored support from The Earthshot Prize Global Alliance, an unrivalled network of world-leading philanthropies, NGOs, and private sector businesses around the world who will help scale their solutions. Support could include access to resources across numerous professions including manufacturing, retail, supply chains, legal advice, digital technology, business strategy and government relations. The Earthshot Prize team is in discussions with all finalists about the support they need, which could include business strategy, further investment or advice on growing their leadership platforms.
The winners were connected to the incredible ceremony by a global broadcast, celebrating all 15 Earthshot Prize Finalists – each representing a ground-breaking solution to repair our planet. The Prince and Princess of Wales were joined by Earthshot Prize Council Members Christiana Figueres, Indra Nooyi, Hindou Oumarou Ibrahim, and Naoko Yamazaki, and a host of artists and advocates including Annie Lennox, Billie Eilish, Catherine O'Hara, Chloe x Halle, Clara Amfo, Daniel Dae Kim, David Beckham, Ellie Goulding, Rami Malek and Shailene Woodley.
The ceremony will air on Sunday, December 4 at 5:30pm GMT on BBC and will begin streaming from The Earthshot Prize YouTube channel later that evening. In the U.S., it will begin streaming at 2:00pm EST on Monday, December 5 on PBS.org and the PBS App and at 8:00pm EST on the PBS YouTube channel. Across Africa, the ceremony will premiere on Multichoice channels on Monday, December 5 at 17:00 WAT. PBS will also broadcast the event on Wednesday, December 14 at 8:00pm EST (check local listings). (All times subject to change).