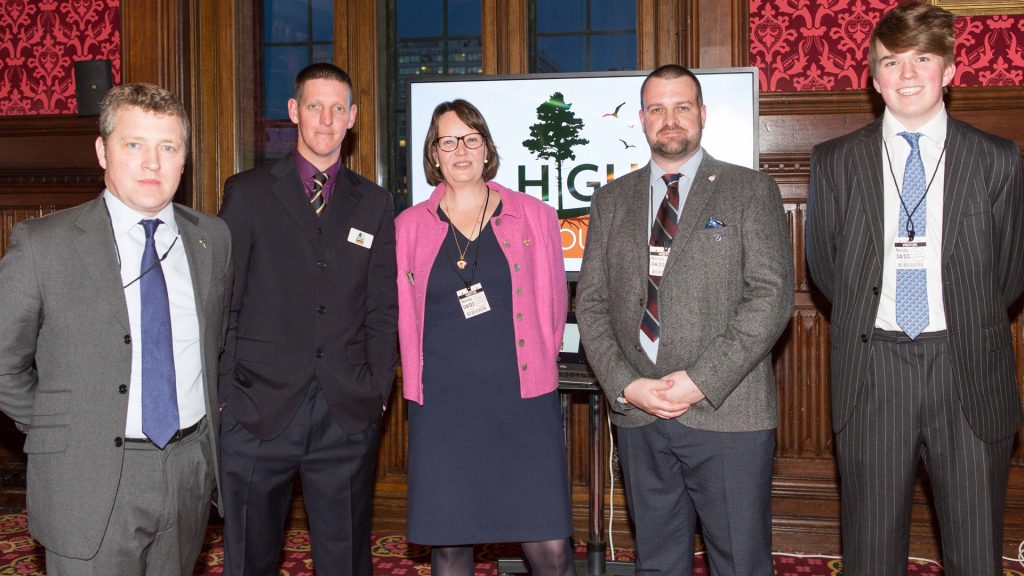 HighGround is assisting armed forces personnel and veterans to find outdoor-based careers post-service
13/03/2019
Following a recent partnership with The Royal Foundation, High Ground will be offering agricultural employment and training opportunities across the UK for veterans.
HighGround charity brought its work to Parliament on 4 March with a reception in the Strangers' Dining Room. Alongside other leading ministers, attendees included the Rt Hon Tobias Ellwood MP Minister for Defence People and Veterans who has been particularly keen to show his support for the Charity's work.
The reception enabled parliamentarians to gain an understanding of the Charity's work and encourage them to become 'Friends of HighGround' to show support for its activities. A series of speeches also gave attendees a deeper insight into the Charity's background and current work at the Defence Medical Rehabilitation Centre (DMRC) at Stanford Hall in Leicestershire.
Established in 2013 by Anna Baker Cresswell, HighGround provides opportunities for serving and retired personnel to find a new career post-service in the land sector through training programmes and work experience placements on farms or other outdoor areas.
The Charity's five-day 'Rural Weeks' bring together ex-soldiers who are working in land-based careers as a result of HighGround's courses to share with residents their experiences and journeys. These are key in the charity's core values, and utilise a combination of classroom presentations and practical activities.
In addition, HighGround provides Horticultural Therapy to personnel wounded in the line of duty, something Anna first introduced to the military in 2007. After a successful three-year pilot scheme at Headley Court in Surrey, the service is now delivered at the DMRC. Through a grant received from the Chancellor's LIBOR fund, the Charity is now able to provide a full Horticultural Therapy service to all of Stanford Hall's patients, who are referred by their Occupational Therapist.
"Our aim at HighGround is to show those who have served their Country that there is support after leaving the armed forces."
Anna Baker Cresswell, HighGround Founder