We are pleased to announce that leading climate action advocate Michael R. Bloomberg, the U.N. Secretary-General's Special Envoy on Climate Ambition and Solutions, founder of Bloomberg L.P. and Bloomberg Philanthropies and 108th mayor of New York City, has been appointed as the Global Advisor to the Winners of The Earthshot Prize.
In this role, Bloomberg will draw on his global network of government, business and philanthropic leaders and harness the resources and expertise within his company and philanthropy to help scale and replicate the Prize Winners' solutions.
Bloomberg has supported The Earthshot Prize since its inception, including support for the design of the Prize in 2019. Bloomberg Philanthropies is a Global Alliance Founding Partner and is supporting Generation Earthshot, an educational programme to engage young people in solving today's biggest environmental challenges. Bloomberg L.P. is also a Member of the Global Alliance, and alongside an international network of influential organisations, will provide the Finalists and Winners with unparalleled support to accelerate and implement their ambitious environmental solutions.
In a joint article in USA Today, Prince William and Michael R. Bloomberg called for collective urgent optimism to catalyse innovation, writing: "We see an incredible new global wave of innovators and entrepreneurs turning crises into opportunities, developing breakthrough solutions that can regenerate our planet while stimulating livelihoods. It's an unseen movement that we are determined will become a powerful engine behind a new growth economy, and a new, better way of life for all."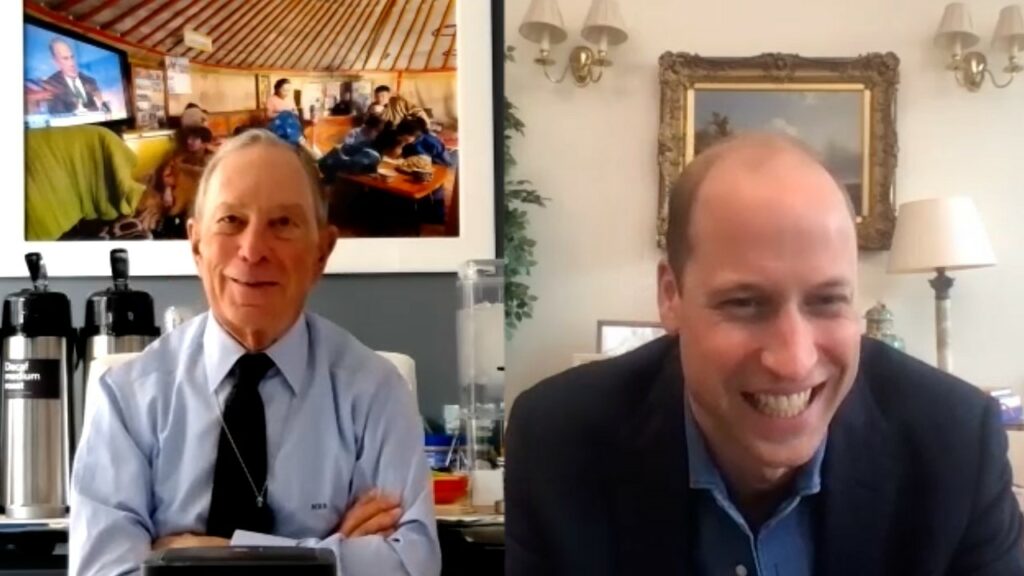 Through the support of businesses, investors and individuals like Bloomberg, The Earthshot Prize aims to bring more sustainable, transformative innovations and technologies to consumers everywhere. The Prize is also designed to inspire future generations of innovators and leaders by incentivizing, rewarding and celebrating the pioneers who are creating a more sustainable future for people and the planet.
Launched by Prince William and The Royal Foundation in October 2020, The Earthshot Prize is the most prestigious global environment prize in history. Inspired by President John F. Kennedy's 'Moonshot' programme in the 1960's, which united millions of people around the goal of reaching the moon, The Earthshot Prize aims to inspire collective action around our unique ability to innovate, problem solve and ultimately repair our planet.
The first set of 15 Earthshot Prize Finalists and their astounding innovations was announced on the 17th September and the five Winners will be awarded on 17 October.
Read the USA Today article