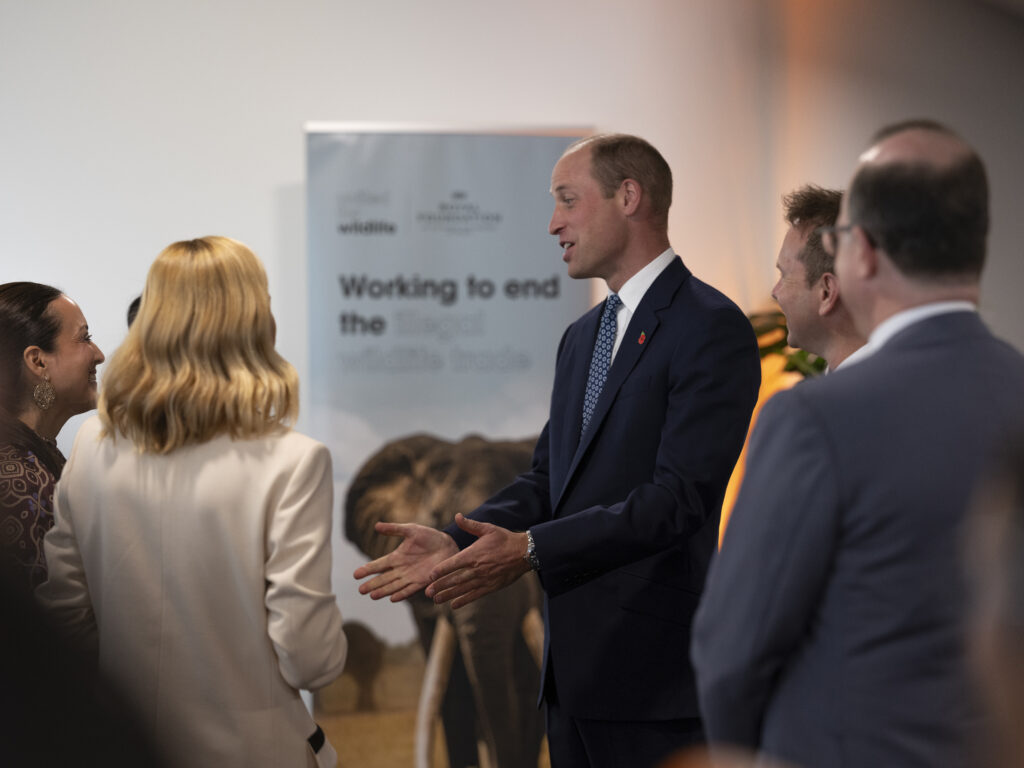 New measures to clamp down on the illegal wildlife trade announced at the United for Wildlife Global Summit
06/11/2023
In an unprecedented demonstration of global commitment to combat the illegal wildlife trade, the financial intelligence units (FIUs) of Australia, Canada, New Zealand, South Africa, Singapore, the United Kingdom, and the United States became the first countries to announce their support for international collaboration to detect and prevent the financial activity that sustains wildlife crime, through the Statement of Principles for a Multilateral Approach to Combating Illegal Wildlife Trade. The world-first proclamation, convened by United for Wildlife, was unveiled today at the United for Wildlife Summit at Gardens by the Bay.
United for Wildlife was created by Prince William and The Royal Foundation in 2014 to protect endangered species from the illegal wildlife trade. Its mission is to foster cross-sector collaboration to make it impossible for traffickers to transport, finance, or profit from illegal wildlife products.
To combat the trade most effectively, the Principles declare that "the signatory nations and intergovernmental organizations to this Statement of Principles believe that strong working relationships with foreign counterparts lead to effective and timely information sharing, open and robust dialogues related to threats and trends, and, where applicable, specific operations, thereby producing better results in combating the transnational organized crime of IWT."
The Summit focused on the power of international collaboration to end the illegal wildlife trade, shining a spotlight on success stories from Southeast Asia and beyond. As both a source and consumer market, as well as a major transport hub, the region is estimated to account for up to 25% of the global illegal trade. However, Southeast Asia is also at the forefront of tackling wildlife crime, with Singapore having had several successes in recent years.
The event was hosted by Mariana van Zeller, an award-winning investigative journalist and host of National Geographic's documentary series "Trafficked." She shared the stage with global leaders and representatives from several international organisations innovating and adapting their work in the collective fight to end the illegal wildlife trade.
Delegates heard a keynote speech from Farwiza Farhan, a passionate forest conservationist working with communities to protect, conserve and restore the Leuser Ecosystem in Sumatra, Indonesia. Farwiza highlighted the role of partnership working across sectors in tackling the illegal wildlife trade, praising the work of United for Wildlife in this space. She followed an earlier session led by National Geographic Society, featuring Nat Geo explorers who are tackling wildlife trafficking through a variety of different lenses.
The summit also highlighted the formalisation of the partnership between United for Wildlife and INTERPOL, through a Letter of Intent, pledging to combine their operational expertise and global networks to tackle IWT.
Speakers included Amanda Berry OBE, Chief Executive, The Royal Foundation; Rt Hon. Lord Hague of Richmond and David Fein, Co-Chairs of United for Wildlife; Raja Kumar, President of the Financial Action Task Force (FATF); Dr Sustyo Iriyono, Director of Environment and Forestry Protection, Ministry of Environment and Forestry of the Republic of Indonesia; Katherine Ford, Associate Director for the Strategic Operations Division, US Treasury; and Dr. Noviar Andayani, Country Director, Wildlife Conservation Society in Indonesia.
Since the inception of its international transport and financial taskforces, United for Wildlife has supported over 600 investigations, nearly 300 seizures of illegal wildlife products, and the training of over 111,000 people to target and tackle wildlife crime.