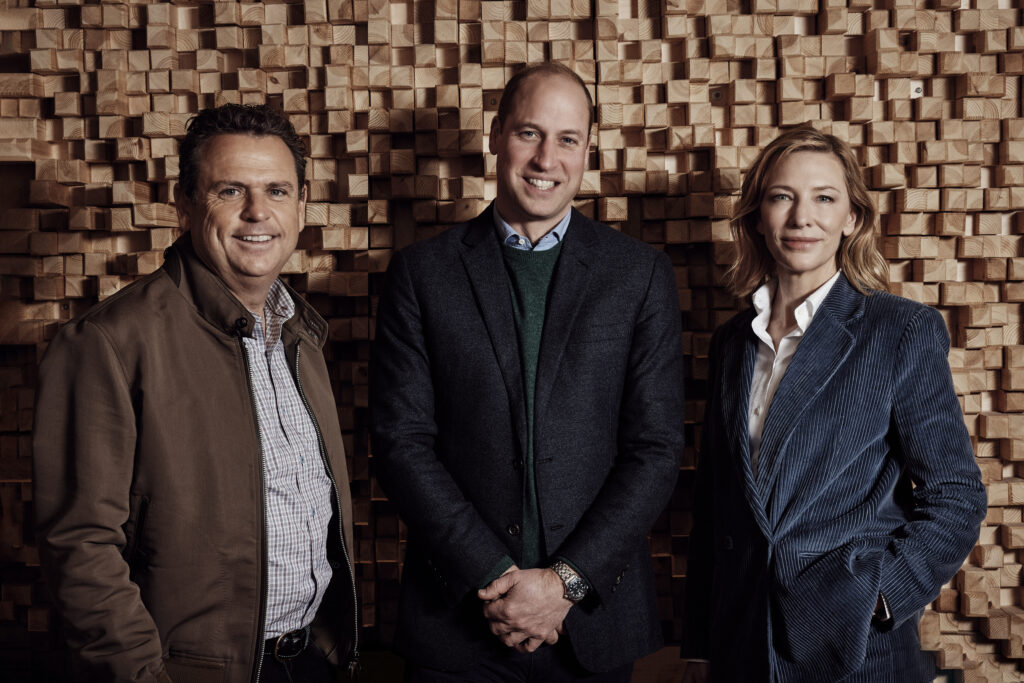 PRINCE WILLIAM AND EARTHSHOT PRIZE FINALISTS FEATURE IN BRAND-NEW CLIMATE OF CHANGE PODCAST HOSTED BY CATE BLANCHETT AND DANNY KENNEDY
14/04/2022
Prince William joins Earthshot Prize Council Member Cate Blanchett and Danny Kennedy in their brand-new podcast Climate of Change to share an exclusive update about The Earthshot Prize Finalists and Winners. 
The podcast's second episode "The Disruptive Decade" features Cate and Danny speaking with Prince William and hearing directly from the 2021 Earthshot Finalists and Winners who share the impact the Prize has generated for their ground-breaking solutions. The episode features: 
Vidyut Mohan of Takachar (Winner: Clean our Air Earthshot) 
Olugbenga Olubanjo of Reeddi (Finalist: Fix our Climate Earthshot)
Dr Katherine Dafforn from Living Seawalls (Finalist: Revive our Oceans Earthshot).
As His Royal Highness says in the interview, the game-changing nature of The Earthshot Prize is the ambition to scale up every Finalist's solution to accelerate their impact. Recorded just a few months after the inaugural Awards Ceremony in October, the updates from Takachar, Reeddi and Living Seawalls show just what an immediate effect The Earthshot Prize profile and platform has had.  
Nigerian entrepreneur Olugbenga Olubanjo, Finalist of Fix Our Climate, shares "I think the beauty of [what] Earthshot… is that limitless access to resources, world demand, relationships and possible capital so that we could leverage to scale our innovation for impact." 
The podcast is available now, exclusively on Audible. A special extended cut of Prince William's interview in Episode 2 is available to listen to for free on YouTube. 
Audible has announced a line-up of inspirational innovators, activists and thought leaders, including Prince William, as part of the Audible Original podcast series, Climate of Change with Cate Blanchett and Danny Kennedy, now live exclusively on Audible. Across six episodes, listeners will hear long-term friends, award-winning actor, producer and environmental advocate, Cate Blanchett and climate entrepreneur and activist, Danny Kennedy, explore eco-anxiety and optimism.
Leaning into Danny's experience in clean energy, the pair raise awareness of the emerging technological revolution that's offering hope in the face of the unfolding climate crisis. Throughout the series, Cate and Danny speak directly to visionaries and trendsetters who are making innovative strides to turn the tide on climate change, from the Navajo Nation in Arizona to the Australian Outback. 
Cate is a Member of The Earthshot Prize Council, a global team of influential individuals from a wide range of different sectors, all of whom are committed to championing positive action in the environmental space. Every year from 2021 until 2030, The Earthshot Prize Council will choose the five Winners of The Earthshot Prize.  
Find out more