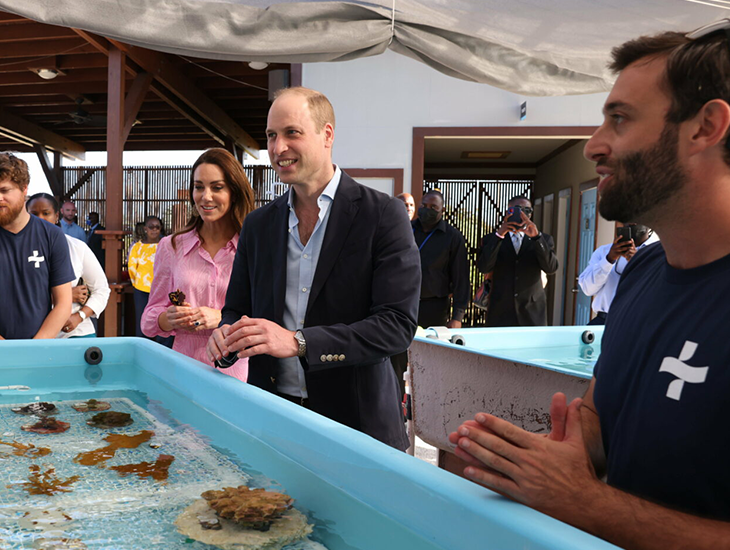 PRINCE WILLIAM VISITS EARTHSHOT PRIZE WINNER AS 2021 FINALISTS REVEAL THE INCREDIBLE IMPACT OF THE PRIZE
26/03/2022
On the final day of their weeklong tour of Belize, Jamaica and The Bahamas, The Duke and Duchess of Cambridge visited Earthshot Prize Winner, Coral Vita, at their coral farm in Grand Bahama. Sam Teicher and Gator Halpern explained to The Duke and Duchess how they are rapidly scaling their efforts, and as a result of winning the Prize have set an ambitious target to plant 10,000 new corals by the end of June 2022 to mark World Ocean's Day 
The Duke and Duchess of Cambridge heard first-hand from Sam and Gator about the impact winning the Prize has generated; from presenting their solution on the world stage at COP26; beginning work to expand their innovative coral farms to the Middle East and Central America; to installing a new 'Earthshot Happy Tank' in the Grand Bahama farm to optimize coral health and growth. Prince William also heard of Coral Vita's newly installed year-round coral spawning system, which is designed to help regenerate baby coral at a faster and more reliable rate. 
This visit takes place less than 6 months after The Earthshot Prize Awards Ceremony. In this short space of time, international scaling of these ingenious solutions has begun, with the Earthshot Winners and Finalists generating significant action and impact all around the world.  
Today, The Earthshot Prize is delighted to announce further updates on the incredible work of the 2021 Finalists and Winners demonstrating the global impact of the Prize: 
Coral Vita (Winner – Revive our Oceans) have kickstarted plans for expansion into new regions around the world, upgraded their existing coral farm, and set an ambitious target to plant 10,000 new corals by the end of June.  
Living Seawalls (Finalist – Revive our Oceans) have seen a dramatic increase in enquiries about their modular seawall panels since being announced as a Finalist, leading to significant commissions around the world, with the potential to drastically increase coastal marine life in their install locations.  
Takachar (Winner – Clean our Air) have seen a huge increase in their profile since the Awards and have been approached by several new partners. One lead has resulted in Takachar's technology being selected for a pilot with support from the World Food Programme India and World Food Programme Innovation Accelerator to turn agricultural waste into carbon-negative fertilizer. This exciting pilot has been identified as a potential policy recommendation to address air pollution in India.  
The Republic of Costa Rica and Restor (Winner and Finalist respectively – Protect and Restore Nature) have forged a ground-breaking partnership which will see Restor become the independent monitor of Costa Rica's deforestation pledge made at COP26. This exciting new partnership, forged by the Prize, will see Costa Rica become the first-ever nation to use Restor to track its payment for ecosystem services projects.  
Connections made by WOTA (Finalist – Build a Waste-Free World) during their time with The Earthshot Prize at COP26 have kickstarted WOTA's work with the Government of Antigua and Barbuda towards their future deployment of water treatment devices to the Caribbean. This will help give citizens access to clean, safe water when it is in short supply.  
With support from Earthshot Prize Global Alliance Member Arup, The Pole Pole Foundation (Finalist – Protect and Restore Nature) is building an innovative sustainable operations and tourist base, which will both increase revenue for the Foundation, and provide an important space for community engagement and education work. 
Nominations for 2022 have recently closed, and The Earthshot Prize will announce this year's Winners at its second Awards Ceremony in the USA later this year.  
Find out more about The Earthshot Prize 2021 Winners and Finalists, and their solutions