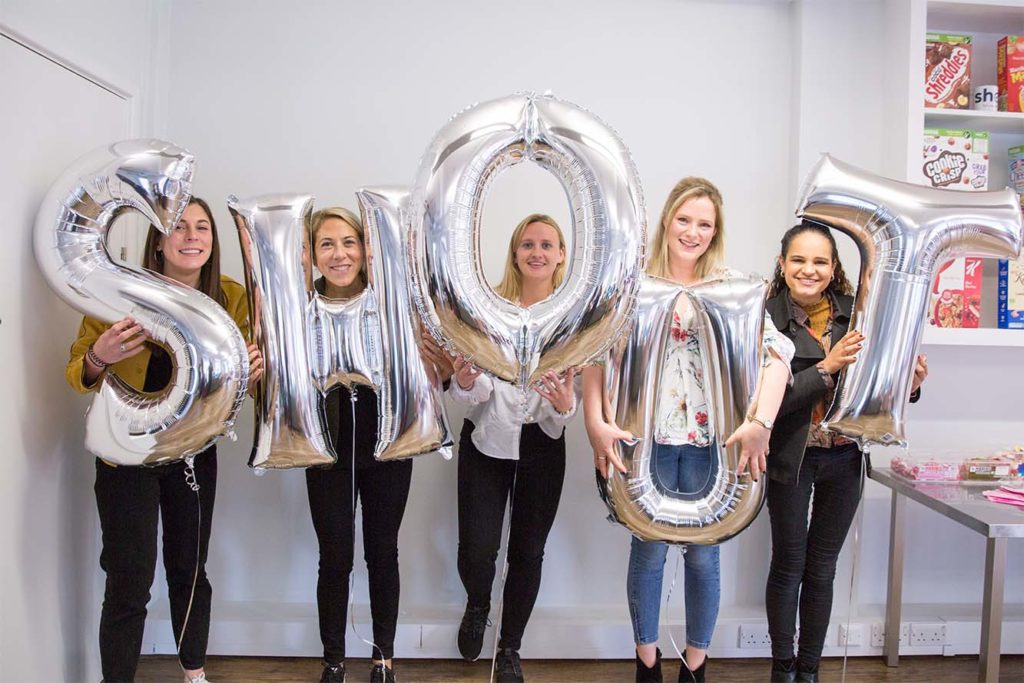 The Duke and Duchess of Cambridge mark first anniversary of Shout
16/05/2020
The Duke and Duchess of Cambridge have marked the first anniversary of Shout85258, the UK's first 24/7 crisis text line, by speaking to five of the organisation's Crisis Volunteers about their experience of providing support to the thousands of people who have texted Shout over the past twelve months.
Shout is a legacy of the Heads Together campaign and was launched in May 2019 by The Duke and Duchess of Cambridge and The Duke and Duchess of Sussex after a £3 million investment from The Royal Foundation. The service is powered by a team of more than 1,800 trained volunteers who stand ready to speak to anyone, whatever their crisis may be, at all times of the day and is free on all major mobile networks.
Last month, Shout joined forces with leading mental health charities Mind, Samaritans and Hospice UK to create Our Frontline, a new initiative supported by the Royal Foundation, which provides round the clock mental health and bereavement support to frontline staff and key workers. This is one of 30 partnerships Shout has formed, enabling charities, local authorities, employers and universities to provide the service to those in need of support.
Speaking over a video call on Wednesday (13th May), Their Royal Highnesses heard from five Crisis Volunteers and the organisation's Chief Executive, Victoria Hornby, about how Shout has grown. In the past year, it has had 300,000 text conversations, two thirds of which have been with people aged 25 or under. They spoke about how Shout is playing a vital role as the country continues to deal with the impact of coronavirus and how work on the frontline is affecting health and care staff as well as emergency responders and other key workers. The volunteers also spoke about how lockdown has impacted young people's mental wellbeing, including how many are finding it harder to access their usual ways of maintaining good mental health but the difference a supportive text conversation can make.
"You guys are the trailblazers, you have been doing a fantastic job keeping Shout moving forward, so well done and thank you for all your hard work; we really appreciate it."
– The Duke of Cambridge
"In twelve months Shout has become a vital service for thousands of people across the UK who are able to text our volunteers for support, wherever and whenever they need it. The fact that Shout has been able to quickly start to help so many people move from a crisis point to a calmer place is down to the skill and dedication of our volunteers and the support we have had from the Royal Foundation of the Duke and Duchess of Cambridge and our other partners. We have seen during the COVID-19 lockdown how young people find it incredibly useful to have a neutral person to listen confidentially to their worries and give independent support, we now want even more people to text 85258, whatever their crisis."
-Victoria Hornby, Shout CEO
To raise awareness of the invaluable support that Shout provides, the organisation has launched a new campaign to promote the text number. The #Shout85258 challenge will see a host of people forming the shape of the 85258 text number with their hands to create videos to upload on to social media platforms.
To kick off the campaign, one of the Shout Crisis Volunteers who joined the call with The Duke and Duchess, took over KensingtonRoyal's Instagram on Saturday (16th May) with unique content including Q&As and videos from volunteers and others, marking the first time that KensingtonRoyal has partnered with another organisation in this way.