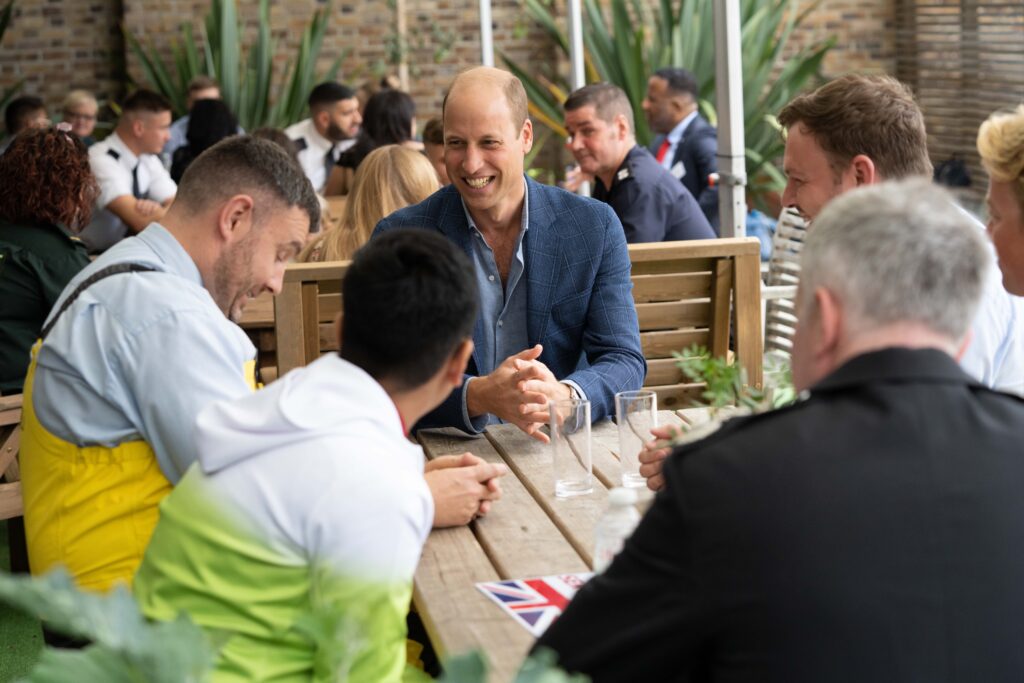 The Duke of Cambridge pays tribute to the incredible work of the Emergency Services on 999 Day
09/09/2021
To mark Emergency Services Day on the 9th September 2021, The Duke of Cambridge visited Dockhead Fire Station in South London, where he met a number of emergency responders, accompanied by members of the public who received their life-saving support.
Each year, Emergency Services Day pays tribute to those working and volunteering in the emergency services and the NHS across the country and His Royal Highness took the opportunity to pass on his thanks for the invaluable work that is carried out around the clock. The Duke of Cambridge is committed to supporting the mental health and wellbeing of the emergency services community, which continues to be an important part of His Royal Highness's work through The Royal Foundation.
During the 999 Day visit, His Royal Highness heard more about the incredible work of our emergency responders, as some were reunited with some of the many people they've saved in their time of need. This included 5 year old Lila, who was successfully resuscitated by ambulance technician Charlotte Speers, along with fire-fighters Marc Rustage and James Knight, after she collapsed, and both Ravi and Noura, whose stories you can read below:
Ravi was rescued by the crew of @RNLIScarborough after being dragged out to sea — he remembered the RNLI's 'Float to Live' advice and was able to remain afloat for almost an hour before the lifeboat crew found and rescued him #999Day pic.twitter.com/ZfRvEQEhnB

— The Duke and Duchess of Cambridge (@KensingtonRoyal) September 9, 2021
PC Ryan Legge and PC Ahmet Mavitunali from the Emergency Police Team, North West BCU acted quickly to save the life of a then six-year-old girl, Noura, who had received appalling injuries at the hands of her father #999Day pic.twitter.com/5LC1IhNBaO

— The Duke and Duchess of Cambridge (@KensingtonRoyal) September 9, 2021
On the same day, which fell the day before World Suicide Prevention Day, The Duke held a meeting with emergency responders at Kensington Palace on the topic of suicide prevention within the emergency services community.
This meeting followed the convening of the Emergency Responder Senior Leaders Board by The Duke and The Royal Foundation last September. The first of its kind, the Board brings together leaders from across all of the UK's emergency services to work collaboratively on the issue of mental health and ensure that all emergency responders receive the support they need. The Board was established in response to a recommendation arising from a research project commissioned by the Foundation in 2018 into the mental health and wellbeing of emergency responders in the UK.