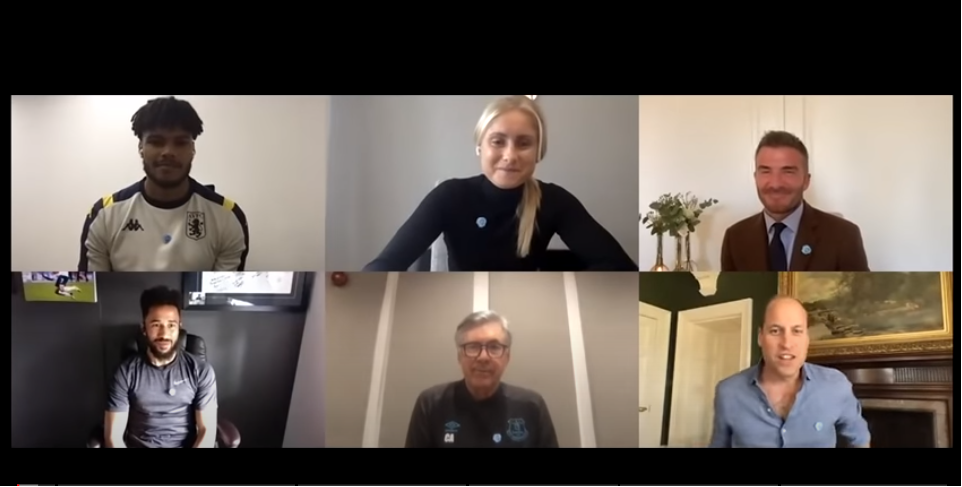 The Duke talks mental health with Beckham, Houghton, Mings, Townsend and Ancelotti for Heads Up
28/07/2020
The Duke of Cambridge has spoken about the importance of prioritising mental health during a video call with David Beckham, Steph Houghton, Tyrone Mings, Andros Townsend, and Carlo Ancelotti, as part of the Heads Up campaign.
The conversation follows the announcement that football has come together to sign a joint Declaration committing to making mental health a key priority at all levels of the game – a lasting legacy of Heads Up.
Spearheaded by The Duke of Cambridge, Heads Up is a season-long campaign between The Royal Foundation's Heads Together campaign and The FA to change the conversation around mental health through football. This Saturday (1st August) will see the 'Heads Up FA Cup Final' dedicated to the issue of mental health.
The 'Mentally Healthy Football' Declaration will see governing bodies, leagues and organisations from across UK football recognising that mental health is as important as physical health, and pioneering a 'team approach' on this important issue. Together, the UK football family will build on the important work that clubs and football organisations are already doing, working together to ensure the mental health of players, staff, managers, coaches and officials is prioritised.
Following the signing of the Declaration, The Duke joined a video call to discuss the importance of a mentally healthy culture within football, with former England Men's Captain David Beckham, Manchester City and England Women's Captain Steph Houghton, Aston Villa and England Men's Tyrone Mings, Crystal Palace's Andros Townsend, and Everton Manager Carlo Ancelotti. During the call, the participants shared their own experiences of dealing with challenges and adversity during their footballing careers, and spoke about the importance of reaching out for support.
For more, visit Heads Up