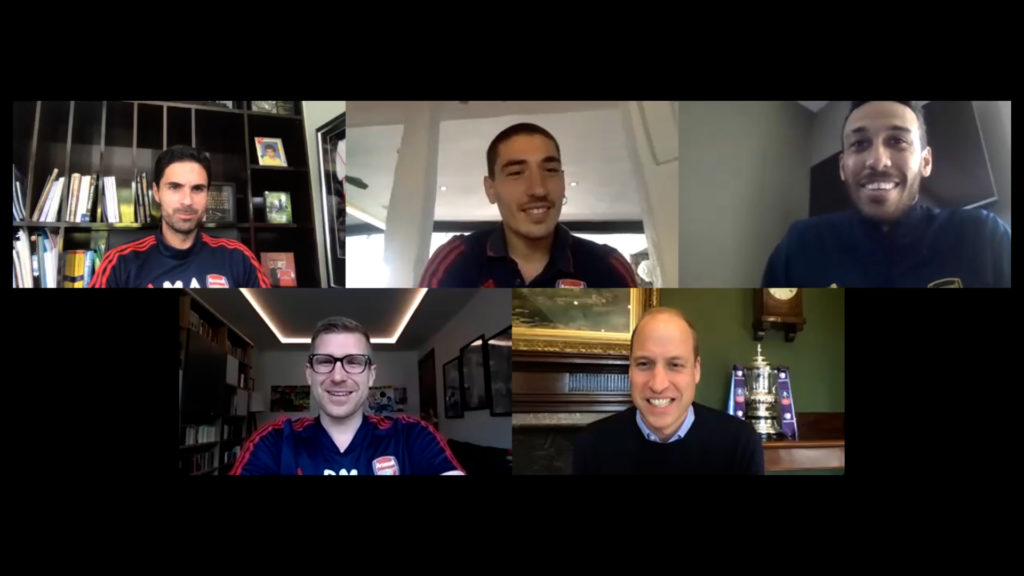 The FA Cup Final renamed the Heads Up FA Cup in support of The Duke's mental health campaign
11/06/2020
As the football season is set to resume following the coronavirus pandemic, the FA has today announced that this season's Emirates FA Cup Final will be dedicated to Heads Up.  The showpiece event in the football calendar is provisionally scheduled for Saturday 1st August 2020 and in an historic first, will be known as The Heads Up FA Cup Final.
The Heads Up campaign was launched in August 2019 at the FA Community Shield, marking the start of a season long mental health campaign partnership between Heads Together and The FA, spearheaded by The Duke of Cambridge. Culminating in The Heads Up FA Cup Final, the campaign has striven to raise awareness, spark conversation and signpost support for those in need, highlighting to the nation that we all have mental health and it is just as important as physical health.
The Duke discussed this exciting announcement on a video call this week with Arsenal first-team players, Head Coach Mikel Arteta and Academy Manager, Per Mertesacker. On the call, they also discussed the importance of prioritising mental health as the football season is set to return.
Watch their conversation here:
Arsenal holds the title for the most FA Cup wins with 13 victories to date, and during the call, the group discussed the significance of the FA Cup Final being dedicated to mental health and the Heads Up campaign. They also discussed with The Duke the mental health implications of the coronavirus pandemic, the role football can play in tackling men's mental health, and how Arsenal is supporting coaching staff and players, including those at the Academy level, as well as the wider football community.
During the call, The Duke said of the Heads Up FA Cup Final:
"We're going to really use the Final as a moment to promote good, positive mental health for everyone. It's quite timely bearing in mind what we've all been through with this pandemic. I think there's going to be, sadly, a lot of repercussions from this in society, not just in football, in terms of people's mental health. Hopefully the FA Cup can be a bit of a pivot that people can rally around."
Click here for more on Heads Up