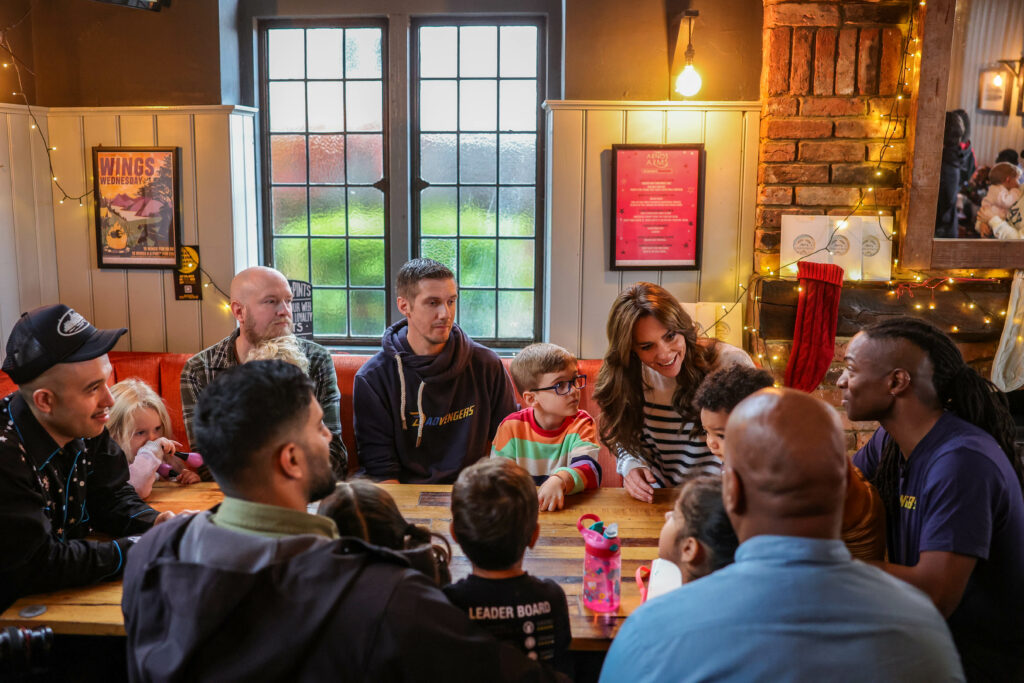 The Princess of Wales joins 'Dadvengers' as part of her 'Shaping Us' campaign on early childhood
02/11/2023
The Princess of Wales has today joined a meeting of 'Dadvengers' – a community for Dads and their children – in Arnos Grove, London, to highlight the important role that Dads play in their children's earliest years.
As highlighted in the Shaping Us campaign which The Princess launched in January, our relationships, experiences, and surroundings in our earliest years lay the foundations that shape the rest of our lives. Providing strong support for parents and carers during these most preventative years is essential and can have a life-changing impact. Her Royal Highness joined the Arnos Grove Dadvengers group at the Arnos Arms where she met a group of dads and spoke to them about the important role they play in a child's development, including in the months before they are even born and in the very earliest weeks and months of their lives.
The Princess was hosted by Nigel Clarke, the founder of Dadvengers and known for his work on The Baby Club on the BBC's CBeebies. She then joined the group on a 'Dad Walk' to the local park and heard about the support they give to one another through the Dadvengers network, helping them to look after their own well-being as well as supporting their families. The Princess was joined on her visit by DJ and songwriter, Jax Jones, who is one of the Shaping Us campaign champions.
Dadvengers is predominately an online community which works to support dads on their journey through parenthood. It has a strong focus on mental wellbeing and supports new fathers in a variety of ways including through online training programmes, podcasts, and more recently the in-person 'Dad Walks'. Dad Walks provide a new way for men to meet other fathers in their local community in an informal setting.
Dadvengers was born from a desire for fathers to be equally involved in raising a child and provides a much needed outlet for fathers to share the experiences and challenges involved in being a parent. The walks currently take place in two areas, North London and Norwich, with an ambition to roll them out across the country so that more Dads can take up the opportunity and benefit from the support on offer.