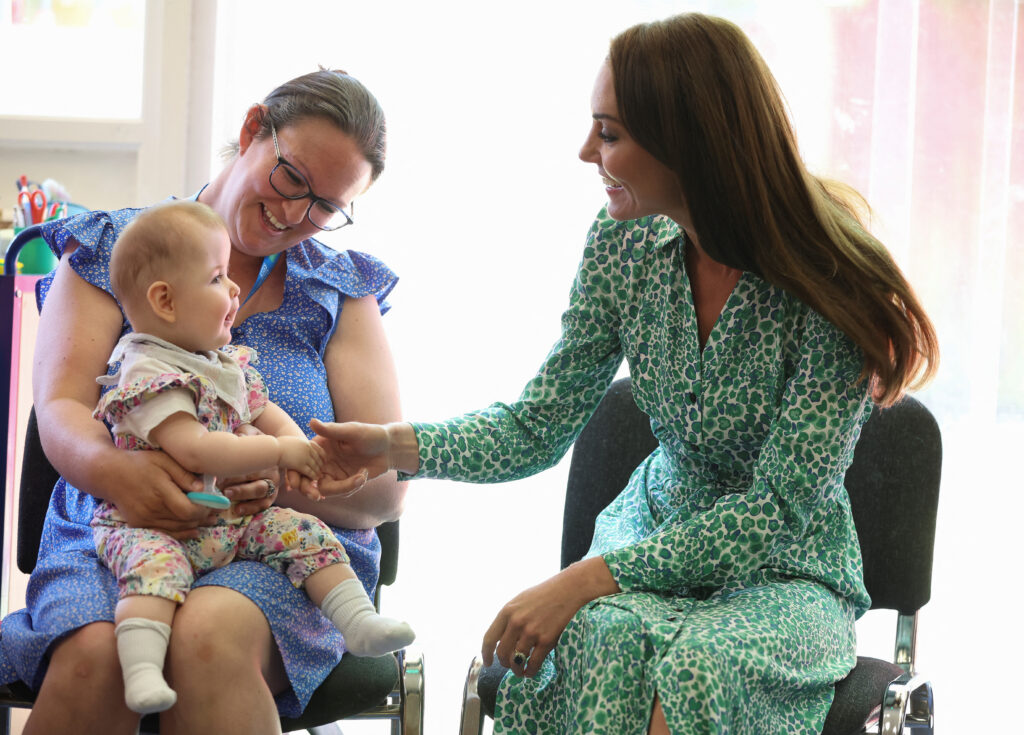 The Princess of Wales meets health visitors taking part in study funded by The Centre for Early Childhood
15/06/2023
On Thursday 15th June, The Princess of Wales met health visitors taking part in a new field study, funded by The Royal Foundation Centre for Early Childhood, which aims to support the profession to promote infant wellbeing and social and emotional development. The Alarm Distress Baby Scale (ADBB) model is used to assess how babies are interacting with the world around them.  
The Princess saw first-hand how the ADBB model is being used by health visitors during her visit to Denmark in February 2022. Following the trip, Her Royal Highness and the Centre for Early Childhood have been working closely with the Institute of Health Visiting to explore the potential for implementation of the ADBB in the UK. 
The tool focuses on social behaviours such as eye contact, facial expressions, vocalisation and activity levels to help practitioners and families to better understand the ways babies express their feelings, whilst also supporting parents and carers with bonding and attachment. The ADBB can also be used to recognise early signs of psychological distress, enabling specialist support to be accessed as soon as it is needed.  
 During her visit to Nuneaton, Her Royal Highness met with health visitors who are taking part in the trial and are currently receiving training to learn how to use the ADBB to support families in their care. The group discussed the importance of ensuring that every child is given the best possible chance at building positive and healthy relationships, and how the ADBB training is allowing them to gain additional practical skills to help deliver this support.  
The Centre for Early Childhood has provided a £50,000 grant for the study which will trial and evaluate the use of the Alarm Distress Baby Scale (ADBB) in the UK and is being run in partnership with the Institute of Health Visiting (iHV) and the University of Oxford. The trial is running for a period of ten months and is being carried out at the South Warwickshire NHS Foundation Trust, and Humber Teaching NHS Foundation Trust.