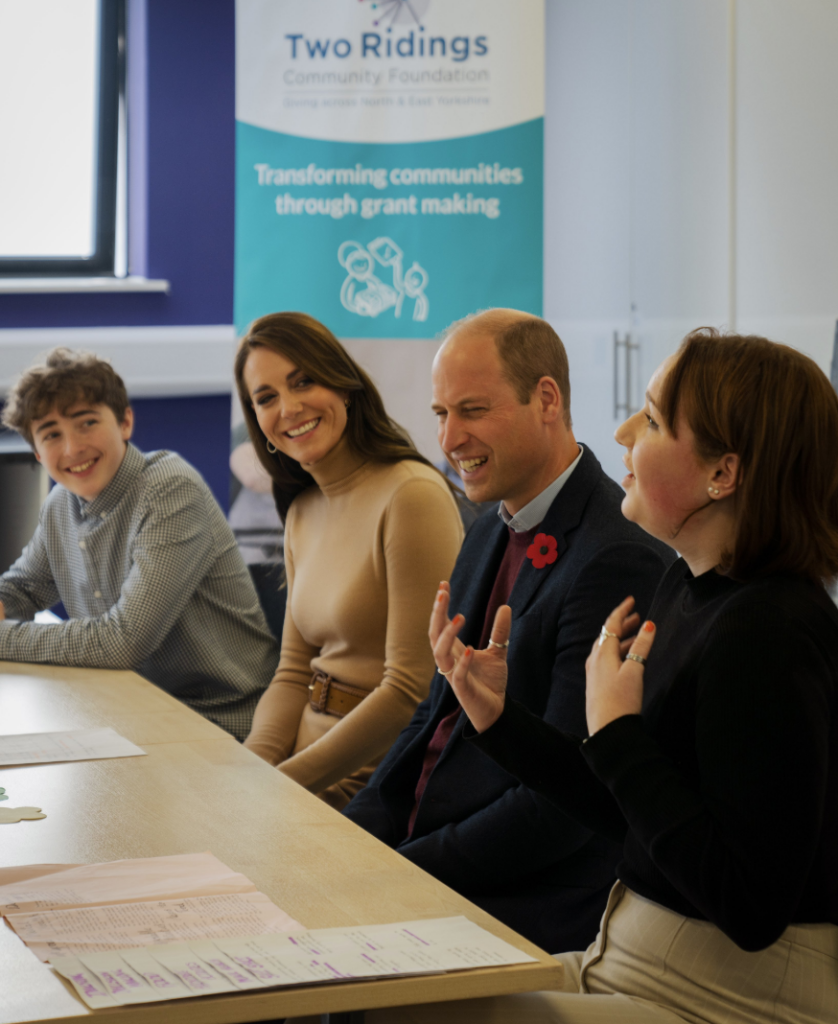 THE ROYAL FOUNDATION ANNOUNCES LONG-TERM MENTAL HEALTH SUPPORT FOR YOUNG PEOPLE IN SCARBOROUGH
03/11/2022
The Royal Foundation of The Prince and Princess of Wales has announced £345,000 worth of funding to galvanise long-term support for young people's mental health in Scarborough, as Their Royal Highnesses paid a visit to the coastal town in North Yorkshire.  
Through their visits to countless organisations providing vital support to communities across the country, Their Royal Highnesses saw an opportunity to bring together local stakeholders to amplify the work of organisations and ensure support reaches those who need it most.  
The funding will be divided between local organisations over the long term to increase the support they can provide for young people's mental health and wellbeing. This will include boosting the provision of measures such as safe spaces, sports and outdoor activities, youth work, creative workshops, mentoring and detached youth work which sees organisations going to locations where young people are. 
"Ensuring that young people have access to a wide range of mental health support is something that The Prince and Princess feel extremely passionate about, so The Royal Foundation is delighted to be able to help elevate some of the excellent work that is already going on across Scarborough. Tackling the stigma around mental health and ensuring that support is there for those who need it continues to be one of society's biggest challenges and we are excited to see this finding create a long-lasting impact for young people in Scarborough." 
– Amanda Berry, CEO, The Royal Foundation of The Prince and Princess of Wales
This support is the result of a collaboration between The Royal Foundation and the Two Ridings Community Foundation, an organisation that creates grants and gives support to hundreds of local, grassroots, charitable organisations throughout North and East Yorkshire.  
The decisions on how the funding will be distributed were made by a grant panel of the Two Ridings Community Foundation. The panel included young people who have themselves been supported by local community organisations, helping to ensure that the money goes straight to the services that have the greatest impact for those who need them. Funding was created through donations from local individuals and organisations, and the fund is expected to grow over the coming months, supporting even more work to improve mental health in the region.  
During the visit to Scarborough, Their Royal Highnesses spent time at local community hub 'The Street' where they met with the grant panel of young people who helped decide on the allocation of funding. The Prince and Princess then met with three beneficiaries that the funding will support: Gallows Close Centre, Sidewalk Youth Project and Flash Company Arts and saw first-hand the impact the funding will make, and the importance of community fundraising in improving the wellbeing and mental health of local residents. The Prince and Princess have long been champions of young people's mental health and are committed to delivering lasting impact in this space through the work of The Royal Foundation.   
In Scarborough, almost one third of residents live in areas that are among the most deprived neighbourhoods in England. These levels of deprivation can mean that mental health provision for those who need it can often be insufficient. As a result, young people living in Scarborough can find themselves stuck in a cycle where mental health support is short and ineffective. The funding announced today will help community organisations who are intervening early to ensure that mental health issues don't get to crisis point and can be prevented. By ensuring funding is created and distributed locally, not only will young people in Scarborough benefit but the wider community will be stronger and more sustainable.