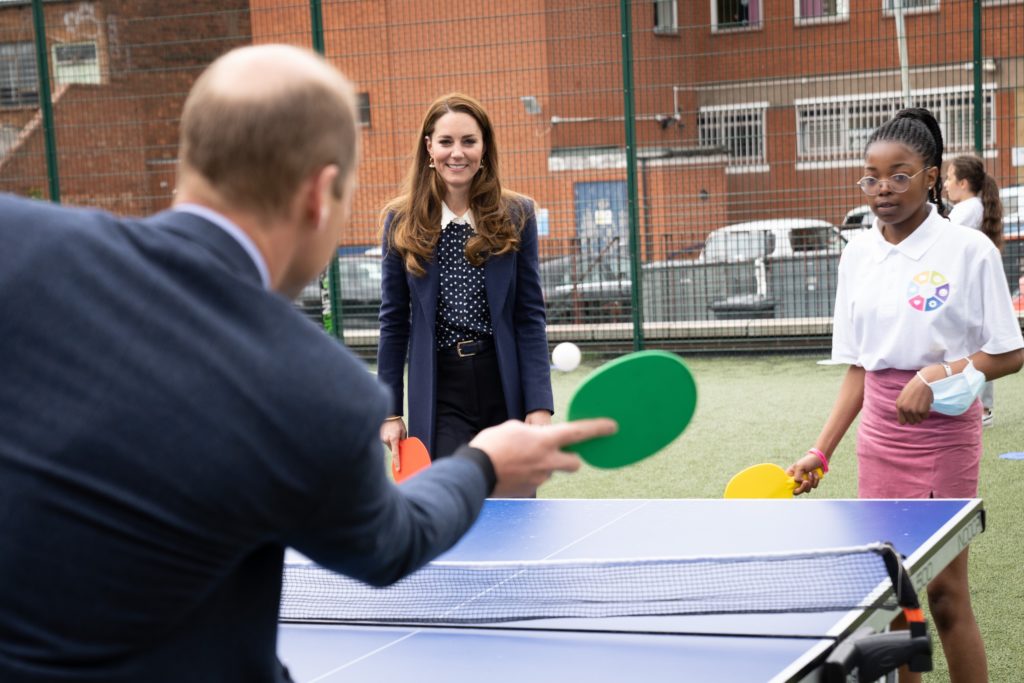 MENTAL HEALTH AWARENESS WEEK VISITS IN WOLVERHAMPTON WITH THE DUKE AND DUCHESS OF CAMBRIDGE
13/05/2021
To mark Mental Health Awareness Week, The Duke and Duchess of Cambridge visited three local organisations based in Wolverhampton which support children and young people with their mental health and wellbeing.
Mental Health Awareness Week is the UK's national week to raise awareness of mental health, hosted annually by the Mental Health Foundation. This year's theme is centred around nature and the important role it can play to help improve mental wellbeing, as well as its power to prevent or aid recovery from poor mental health.
Their Royal Highnesses firstly visited The Way Wolverhampton Youth Zone, a local organisation which motivates and inspires young people to transform their lives. The Way allows young people the opportunity to participate in positive and constructive activities and provides them with somewhere to go and someone to talk to. The Duke and Duchess joined a group of young people who use The Way's services as they took part in a number of wellbeing sessions and met a group of HeadStart ambassadors.
Established by The National Lottery Community Fund, HeadStart is a programme designed to improve the resilience and emotional wellbeing of children and young people by giving them the skills they need to address the challenges of modern life. As part of the programme, The Anna Freud Centre, a Heads Together charity partner of which The Duchess is Patron, and University College London are evaluating evidence about new ways to improve the mental health and wellbeing of young people and to prevent serious mental health issues from developing. It includes survey responses from 65,000 children and young people – including many young people from Wolverhampton, such as those accessing HeadStart support at The Way – about their mental health and the strengths, skills and social connections that support their wellbeing.
View this post on Instagram

The Duke and Duchess's second visit was to Base25, a city-centre charity that has been operating for over twenty years to provide support for young people who have difficulties in accessing mainstream services. The charity works with approximately 9000 young people each year and offers a range of services for children, young people and their families including counselling and a daily drop-in centre. During the visit, Their Royal Highnesses heard from a number of young people who use the Base25's services about the impact of the charity's support and met staff that deliver tailored outreach and support to the local community, including during the Covid-19 pandemic.
We also visited @Base25Wolves, a vital service aimed at improving the lives of younger people aged between 3 and 25 in the local area.

By working in a 'holistic' way; they see the whole person & not treating them as a series of issues or problems. #MentalHealthAwarenessWeek pic.twitter.com/DbGX9fFeoJ

— The Duke and Duchess of Cambridge (@KensingtonRoyal) May 13, 2021

The Duke and Duchess then travelled to HugglePets in the Community, a not-for-profit organisation founded in 2018 which uses Animal Assisted Therapy to help children with SEN disabilities or those experiencing mental health challenges engage with therapy and wellbeing activities. HugglePets in the Community works with over 25 different schools in the Black Country, offering Animal Assisted Intervention programmes supporting children with their mental wellbeing on topics including anxiety, low mood, confidence and resilience building and suicide awareness. Their Royal Highnesses joined one of these sessions with a group of local school children from Loxdale Primary School, before visiting the centre's Sensory Activity Centre and Community Aquarium.
Meeting Barbara the Bearded Dragon and Gus the Guinea Pig at @Hugglepets 🐉🐹 who use Animal Assisted Therapy to help children with disabilities, or those experiencing mental health challenges, to engage with therapy and wellbeing activities. pic.twitter.com/4pplHOA27E

— The Duke and Duchess of Cambridge (@KensingtonRoyal) May 13, 2021
These engagements fall ahead of The Royal Foundation's Mental Health Minute – a one minute message due to be simulcast across over 500 UK radio stations tomorrow morning at 10.59hrs, in partnership with Radiocentre and Somethin' Else. The Duke and Duchess are voicing this year's minute alongside influential voices in support of Shout 85258.